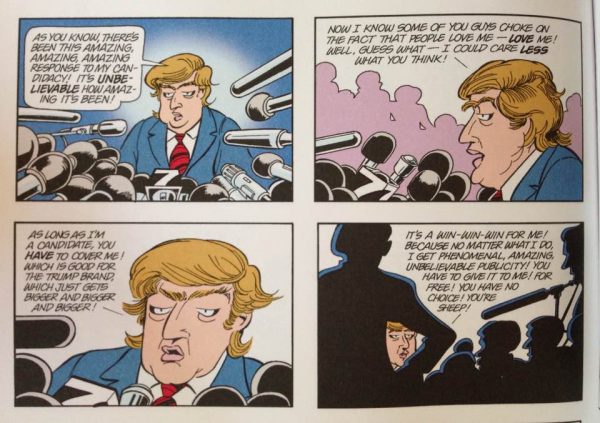 Doonesbury; November 14, 1999
Malcolm Gladwell's podcast, Revisionist History, just ended its first season with an episode (stream it below) dedicated to how satire can speak truth to power. "Satire lets you say almost anything," muses Gladwell, "When you sugarcoat a bitter truth with humor, it makes the medicine go down." That's something Garry Trudeau figured out long ago, back when he started Doonesbury in the 70s. And by the time Donald Trump came around in the 80s, Trudeau knew where to set his sights. In the preface to his new book, Yuge! 30 Years of Doonesbury on Trump, Trudeau writes:
Trump had become the gold standard for big, honking hubris, and to ignore him would have been comedy malpractice. In New York City, he practically owned the '80s, rocketing to the top as the Big Apple's loudest and most visible asshole… To those of us in the ridicule industry, the man Spy dubbed "a short-fingered vulgarian" was a gift beyond imagining…
Trudeau understood precisely what made Trump tick. And on November 14th, 1999, he drew a cartoon (see a section here) that satirized Trump's earliest flirtation with the US. presidency. It's an uncanny cartoon, a remarkable anticipation of–and commentary on–the candidate we've had to endure for the past year. Or, it's a testament to how the M.O. of Trump is completely identifiable and unchanging.
Trump: "As you know, there's been this amazing, amazing, amazing response to my candidacy. It's been unbelievable how amazing it's been!"
Trump: "As long as I'm a candidate, you have to cover me! Which is good for the Trump brand, which just gets bigger and bigger and bigger."
Trump: "No matter what I do, I get phenomenal, amazing, unbelievable publicity! You have to give it to me! For free! You have no choice. You're sheep!"
A harbinger of 2016, to be sure.
A section of the cartoon (above) made the rounds on Twitter this weekend, and you can view it in a bigger format here. The complete cartoon appears on page 62 of Yuge! 30 Years of Doonesbury on Trump, which will help you survive the last 58 days of this ridiculous campaign. Pick up a copy and send Garry thanks.
Below, stream Gladwell's podcast and meditate on the political uses of satire.
Related Content:
Noam Chomsky on Whether the Rise of Trump Resembles the Rise of Fascism in 1930s Germany
R Crumb, the Father of Underground Comix, Takes Down Donald Trump in a NSFW 1989 Cartoon
Stephen Hawking on the Rise of Trump: "He's a Demagogue Who Seems to Appeal to the Lowest Common Denominator"
J.K. Rowling Defends Donald Trump's Right to Be "Offensive and Bigoted"
Garry Trudeau's Doonesbury Imagines a Trump Candidacy Back in 1999. And Nails It! is a post from: Open Culture. Follow us on Facebook, Twitter, and Google Plus, or get our Daily Email. And don't miss our big collections of Free Online Courses, Free Online Movies, Free eBooks, Free Audio Books, Free Foreign Language Lessons, and MOOCs.