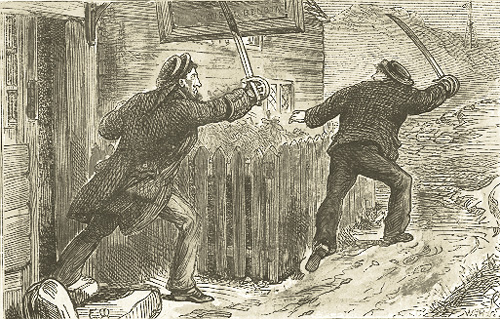 Briefly noted: Over on Spotify you can stream a classic audio book of Robert Louis Stevenson's Treasure Island (iPad/iPhone – Kindle + Other Formats – Read Online). Recorded in 1958 by character actor Hans Conried, this classic pirate's tale runs 5 hours, 20 minutes–which is shorter than other recordings available on the market, suggesting that it's abridged. But nonetheless it's worth the listen. Conried's reading (which can also be purchased online) will be added to our collection, 700 Free Audio Books: Download Great Books for Free. Stevenson's text itself appears in our collection of Free eBooks. If you need Spotify's free software, download it here.
Looking for free, professionally-read audio books from Audible.com? Here's a great, no-strings-attached deal. If you start a 30 day free trial with Audible.com, you can download two free audio books of your choice. Get more details on the offer here.
Hear Robert Louis Stevenson's Treasure Island, Read by Hans Conried (1958) is a post from: Open Culture. Follow us on Facebook, Twitter, and Google Plus, or get our Daily Email. And don't miss our big collections of Free Online Courses, Free Online Movies, Free eBooks, Free Audio Books, Free Foreign Language Lessons, and MOOCs.