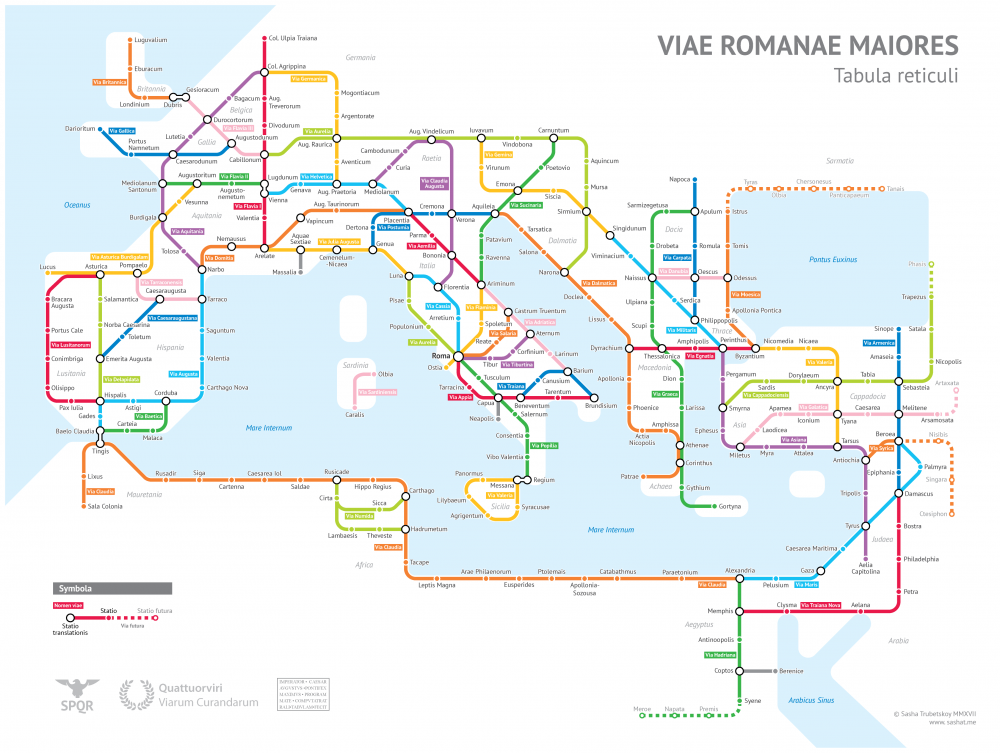 Sasha Trubetskoy, an undergrad at U. Chicago, has created a "subway-style diagram of the major Roman roads, based on the Empire of ca. 125 AD." Drawing on Stanford's ORBIS model, The Pelagios Project, and the Antonine Itinerary, Trubetskoy's map combines well-known historic roads, like the Via Appia, with lesser-known ones (in somes cases given imagined names). If you want to get a sense of scale, it would take, Trubetskoy tells us, "two months to walk on foot from Rome to Byzantium. If you had a horse, it would only take you a month."
You can view the map in a larger format here. And if you follow this link and send Trubetskoy a few bucks, he promises to email you a crisp PDF for printing. Enjoy.
Follow Open Culture on Facebook and Twitter and share intelligent media with your friends. Or better yet, sign up for our daily email and get a daily dose of Open Culture in your inbox. 
If you'd like to support Open Culture and our mission, please consider making a donation to our site. It's hard to rely 100% on ads, and your contributions will help us provide the best free cultural and educational materials.
Related Content:
"The Wonderground Map of London Town," the Iconic 1914 Map That Saved the World's First Subway System
Designer Massimo Vignelli Revisits and Defends His Iconic 1972 New York City Subway Map
Ancient Maps that Changed the World: See World Maps from Ancient Greece, Babylon, Rome, and the Islamic World
Watch the Destruction of Pompeii by Mount Vesuvius, Re-Created with Computer Animation (79 AD)
Fashionable 2,000-Year-Old Roman Shoe Found in a Well
The Rise & Fall of the Romans: Every Year Shown in a Timelapse Map Animation (753 BC -1479 AD)
Ancient Rome's System of Roads Visualized in the Style of Modern Subway Maps is a post from: Open Culture. Follow us on Facebook, Twitter, and Google Plus, or get our Daily Email. And don't miss our big collections of Free Online Courses, Free Online Movies, Free eBooks, Free Audio Books, Free Foreign Language Lessons, and MOOCs.